"A Firm Committed to Our Clients"

$1.2 Billion
Clergy Abuse Cases


$200 Million
Metrolink Train Cases

"Compassionate and Thorough"

$24 Million
Class Action
Settlement

$21 Million
Defective
Products Case

$10.2 Million
Major Injury
Collision

$11 Million
Defective
Device Trial

Protecting Consumer Rights

$8 Million
Truck/Car
Collision Verdict

$7 Million
Wrongful Death
Settlement
Representing consumers who have suffered due to the negligence of others
__________________________________________________________
Congratulations to Paul Kiesel Being Named to Top 100 Lawyers Again for 2018
Paul Kiesel  has been recognized as one of the Top 100 lawyers in California for 2018 by the Daily Journal
__________________________________________________________
CVN's Top 10 Most Impressive Plaintiff Verdicts of 2017
#3:

  

Hilario Cruz, et al. v. Nissan North America
$25 million verdict over faulty brakes that caused wrongful manslaughter charg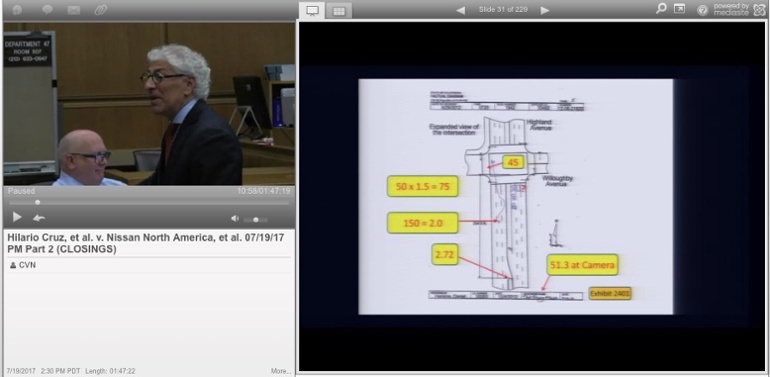 Why it made the list:
When plaintiff Hilario Cruz first filed a lawsuit over the vehicular collision that took the life of his two children and their mother, he sued the driver of the Infiniti SUV that slammed into their car, 74-year-old Solomon Mathenge. Mathenge was later charged with vehicular manslaughter.
Mathenge maintained that the brakes on his vehicle failed, and after prosecutors learned that the same defect Mathenge alleged also served as the basis for a class action lawsuit against Nissan, which manufactures the Infiniti line, they dropped the charges. Cruz then sued Nissan with Mathenge as a co-plaintiff.
The Number one most impressive verdict of 2017 is also a Kiesel Law LLP Trial
#1: Echeverria v. Johnson & Johnson
$417 million verdict in first ovarian cancer talc trial in California
Plaintiff attorneys: Kiesel Law LLP,  Robinson Calcagnie, The Smith Law Firm, Beasley Allen Law Firm and Ashcraft & Gerel LLP
__________________________________________________________
Kiesel Law LLP Victorious In Auto Collision Trial
$676,000 Awarded by Los Angeles Jury
"The insurance company says they take full responsibility for the accident, yet refuse to  compensate the plaintiff for the injuries received."  This opening given by attorney Bryan Garcia of Kiesel Law LLP explained to the Los Angeles Superior Court jury why the matter had reached the trial stage.  With $21,000 in medical treatment and pain that continues to this day for our client, Mercury Insurance Company was only willing to offer $55,000 to settle the case.  Our firm demand was $200,000.
Attorney Ashley Conlogue did the direct examination of Dr. David Fish MD, the treating physician, and confirmed the continuing treatment our client was receiving. "Dr. Fish has been treating our client for 4 years, and we were able to show the jury that the progression of treatment  finally resulting in epidurals and radio frequency ablations (RFAs), was appropriate and necessary as a result of the collision."
Partner Paul Kiesel of Kiesel Law LLP said,  "Bryan and Ashley did an outstanding job.  They were able to convey to the jury the substantial impact this collision had on our client's life.  A Jury award of $676,000 was both appropriate and a vindication for our client. We are grateful for the hard work and attention these 12 jurors gave this matter."
__________________________________________________________
Porter Ranch Gas Leak Litigation Update
Liaison counsel, Paul Kiesel, providing latest news on the 344 filed cases
The court held its most recent status conference on November 15, 2017. The case is moving into the discovery phase of the litigation. Southern California Gas Co (SCG) has produced hundreds of thousands of documents that the plaintiff attorneys are currently reviewing and evaluating.  There are hundreds of thousands more documents to come. Additionally, within the next 60 days, "depositions" will begin where witnesses will give live testimony relating to what has occurred. There will likely be dozens if not hundreds of depositions taken over the next 6-8 months. At this time, we hope that the first personal injury case(s) will begin in December of next year.
__________________________________________________________
Johnson & Johnson Hit With $417M Talc Verdict
 Historic verdict on behalf of women against Johnson & Johnson
By Daniel Siegal
Law360, Los Angeles — The first California state jury to evaluate the possible link between Johnson & Johnson's talcum powder products and ovarian cancer set a high-water mark on Monday with a $417 million verdict for the company's role in causing a woman's terminal cancer, surpassing large awards from earlier trials in Missouri.
After two days of deliberations following the four-week trial in Los Angeles, the jury found for plaintiff Eva Echeverria, finding that J&J had failed to warn consumers about the increased risk of ovarian cancer caused by its Johnson's Baby Powder and Shower to Shower products, and that Echeverria's terminal ovarian cancer was caused by her use of those products.
The jury awarded Echeverria $70 million in compensatory damages and slapped J&J and its subsidiary and co-defendant Johnson & Johnson Consumer with $347 million in punitive damages, far surpassing even the eight and nine-figure verdicts the company has been hit with after similar trials in St. Louis.
.
__________________________________________________________
Wright Medical Hip Implant Settlements Over $340 Million
Kiesel Law LLP, along with other members of the leadership counsel, is proud to announce the successful negotiation of a settlement program to resolve all remaining eligible metal-on-metal claims pending against Wright Medical.
This settlement program will involve over 600 eligible metal-on-metal revised hip claims currently pending in the MDL, in the JCCP, and on tolling agreements. This follows the first phase of 1,300 claims settled against Wright Medical regarding metal-on-metal hip implant patient-claimants in 2016. Due to Wright's financial situation, values will be discounted from the first settlement but will include standard awards as well as an Enhanced Injury Fund (EIF) to supplement more significant injuries. When completed, the only remaining claims will be ineligible claims which should be remanded by the court, non-revised claims to be dismissed by the court under a tolling agreement, and claims to be remanded by the court as settlement opt-outs. The total amount of the Wright Medical metal-on-metal settlements is over $340 million.
Helen Zukin, Kiesel Law partner who serves in Plaintiffs' leadership, stated, "It is important that our clients receive compensation and resolution of their claims against Wright medical. This settlement will allow them to move forward with their lives."
__________________________________________________________
Fatal Shooting by CHP Officers
Kiesel Law LLP retained by the Villanueva family after
their unarmed son Pedro was shot and killed by CHP officers
On the evening of July 3, 2016, Villanueva, a 19-year-old student, was shot to death by undercover officers with the California Highway Patrol in Fullerton, California. The officers also shot and injured passenger Francisco Orozco. The officers began following Villanueva's vehicle because Villanueva had attended a sideshow, which is an informal gathering of young adults and their vehicles in parking lots.
 "The only basis the undercover officers had for following Villanueva was that he attended the sideshow", said attorney Paul R. Kiesel, who represents the family. "At most, the officers could have issued a ticket".   Instead, the CHP officers followed Pedro and Francisco for over five miles without once identify themselves to Villanueva as law enforcement, as they were driving an unmarked police car, wearing plain clothes (no police uniforms), and failed to engage their loud speaker or siren.  The undercover officers then followed Villanueva down a cul-de-sac and opened fire on Villanueva's vehicle killing Villanueva and seriously injuring his passenger before identifying themselves as law enforcement.
Passenger Francisco Orozco recalls the panic he and Pedro felt while being chased by the unidentified car.  "We were followed from the Santa Fe Springs Swap Meet by a black car and chased. They never once used a siren, a loud speaker or provided any warning whatsoever before they started shooting. They never identified themselves as law enforcement until after they stopped shooting."  Immediately after the shooting, the undercover officers did not provide C.P.R. or provide any other emergency medical care to Mr. Villanueva, instead waiting for paramedics to arrive. As a result, Pedro Villanueva died from his injuries.
"Villanueva and Orozco feared for their lives because they did not know who was chasing them," Paul Kiesel said, adding that law enforcement has never been "so brazen in their exercise of deadly force."
"It wasn't until the bullets stopped that the officers identified themselves as police," Kiesel said. "They were unarmed. They had Fiji water in the center console."  Villanueva's parents have called for justice and answers about why their son was shot. Pedro, they said, was a "good boy."   "We have no words," said Villanueva's brother, Armando, 21. "There's nothing we can say."   The brothers worked together at the family restaurant, Villanueva Mexican Grill, and had hoped to one day open a branch of their own.
__________________________________________________________
Court Victory for Consumers of Organic foods
Kiesel Law LLP wins California Supreme Court victory
for consumers of organic foods
"To buyers and sellers alike, labels matter."
Today, the CA Supreme Court held that state law claims which alleged that produce distributed and sold by Herb Thyme was being intentionally mislabeled as organic is not preempted by federal law. The Court further stated that lawsuits alleging intentional mislabeling of organic produce promote, rather than hinder, Congress's purposes and objectives. The class action filed by Kiesel Law LLP alleging false advertising and unfair competition, can now proceed.
Kiesel Law LLP is proud of this victory for consumers across California. If you believe that a company is misleading in its advertising, we would be interested in hearing about it.
__________________________________________________________
Los Angeles Files Against PricewaterhouseCoopers
PricewaterhouseCoopers fraudulently misrepresented its ability to implement a new billing system for the Los Angeles Department of Water and Power in order to secure a $70-million municipal contract and subsequently failed to deliver, according to a civil lawsuit filed Friday by the city attorney's office.  According to the city attorney's complaint, PricewaterhouseCoopers "overstated its knowledge, expertise and skills necessary to convert" the existing system and launch a new software platform.
The alleged misrepresentation began after the L.A. utility issued a request for proposals in an effort to modernize its nearly 40 years old customer care and billing system.  As a result of PricewaterhouseCoopers's lack of skills and experience to perform the work stipulated in the contract, the LADWP's system was unable to properly tally service bills for tens of thousands of customers.
Kiesel Law LLP is acting as special counsel for the City of Los Angeles.
__________________________________________________________
This information is not intended to create, and receipt or viewing does not constitute, an attorney-client relationship. Address: 8648 Wilshire Boulevard, Beverly Hills, CA 90211 Phone: (310) 854-4444 © 2018 All Rights Reserved.  Privacy Policy